Viana do Castelo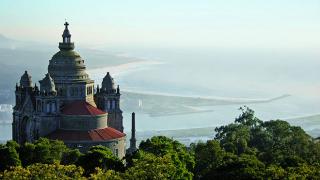 ---
Don't miss
discover the fishing harbour, and watch the departure of the fishing fleet
Viana do Castelo is one of the most beautiful cities in the north of Portugal. Its involvement in the Portuguese Discoveries and, later on, cod fishing shows its traditional connection to the sea.

Viana do Castelo is easily accessed from Porto, or from Valença for those coming from Spain. The special geographical situation of the city, next to the sea and to the mouth of the river Lima, can be seen from the Santa Luzia hill. This stunning view and the Basilica of the Sacred Heart of Jesus, a revivalist building by Ventura Terra, of 1898, could be your starting point for visiting the city.

Viana is rich in palaces emblazoned with coats of arms, churches and monasteries, monumental fountains and water features that constitute a wealth of heritage worth visiting. At the Tourist Office, you can ask for a brochure and choose a route inspired by Manueline, Renaissance, Baroque, Art Deco or tile architecture. Whichever streets you stroll through in the historic centre, you will always come back to the Praça da República, the heart of the city. This is where you will find the 16th century Misericórdia building and fountain, as well as the old Paços do Concelho (Town Hall). Close by is the Romanesque Cathedral or Igreja Matriz (Parish Church).
---