Islet of Vila Franca do Campo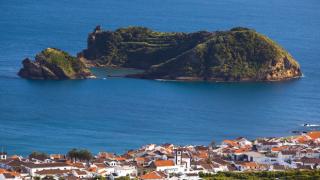 ---
Don't miss
be sure to bring snorkel gear and camera
A small paradise that is off the shore of a larger one - the island of São Miguel - the islet of Vila Franca do Campo provides an exciting day for anyone who visit it.

Situated opposite the town of Vila Franca do Campo, about 1km from the coast, the islet is a result of the crater of an ancient submerged volcano, and is one of São Miguel's main tourist attractions, particularly since an event in the Red Bull Cliff Diving world championship was held here.

Classified as a Nature Reserve, the walls of its crater are lined by endemic vegetation, while inside there is an almost perfectly circular natural lake, which is linked to the sea by a narrow channel. This opening is called Boquete and faces north, i.e. towards the coast of São Miguel, which prevents the entry of waves from the sea. Its crystal clear waters and the small but lovely beach, are excellent for swimming and diving.
---