The Gastronomy of the Azores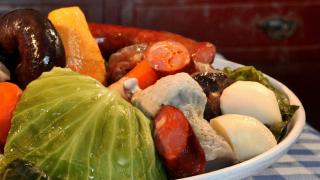 ---
Don't miss
visit the Wine Museum in Biscoitos on the Island of Terceira
discover one of the tea museum factories and the pineapple plantations on the Island of São Miguel
see how Ilha cheese is made on the Island of São Jorge
picnic at one of the various viewpoints on any of the islands
Gourmets delight in the many traditional recipes of Azorean cuisine. Here, fish and seafood abound, so those who appreciate a delicious fish straight from the sea will find a paradise in the Azores.

Grilled, in bouillabaisses or soups, fish is cooked in a variety of ways. But make sure you taste tuna which, in these waters, has a pink hue and a soft flavour and texture, is slightly salty and is still caught by hook and line. Or octopus which is mostly appreciated stewed in aromatic wine. The Azores have seafood that is not found anywhere else, such as limpets, barnacles and locust lobsters, a kind of tender and tasty lobster which is almost a sin not to try.

As for meat, there are some typical Azorean dishes, such as cozido das Furnas, unique for being cooked under the ground, harnessing the heat that the earth retains in that part of the Island of S. Miguel. At the right time, you can watch the preparation of the meal by the lagoon. On the Island of Terceira, the focus is on alcatra (fish or beef casserole), well-seasoned as tradition demands, and on the other islands there are several variations on the recipe for yam with sausage.

The bolo lêvedo (leavened cake) from Furnas is also very popular, and goes well with any meal, by itself or with butter or jam. Or with Azores honey, a Protected Designation of Origin product, owing its high quality to the diversity and richness of the flora.
---