Christmas Traditions in Portugal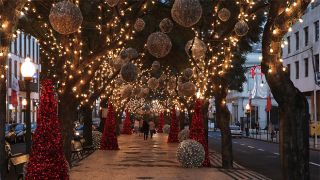 The Christmas season is great for a mini holiday in Portugal as it is not very cold and there are still some sunny days. There is a festive environment and the moments that rekindle the spirit of fellowship are the most important.

Traditionally families gather on the 24th of December at the dinner table and serve up dishes of cod, although roast turkey and other meat dishes that were enjoyed in the days after have also begun to be part of the menu. For dessert, there is always Bolo Rei (King's Cake) filled with candied fruits or nuts, in addition to delicious traditional fried desserts: "filhós" (traditional deep fried sweet pastry sprinkled with a mixture of sugar and cinnamon), "sonhos" (traditional deep fried sweet soft pastry normally eaten at Christmas) and "rabanadas" (type of French toast).

At midnight we celebrate the Midnight Mass and in churches, as well as at home, there is a special place for the nativity scene, recreating the stable where Jesus was born, an idea of St. Francis of Assisi in the 13th century and which is quite common in Portugal.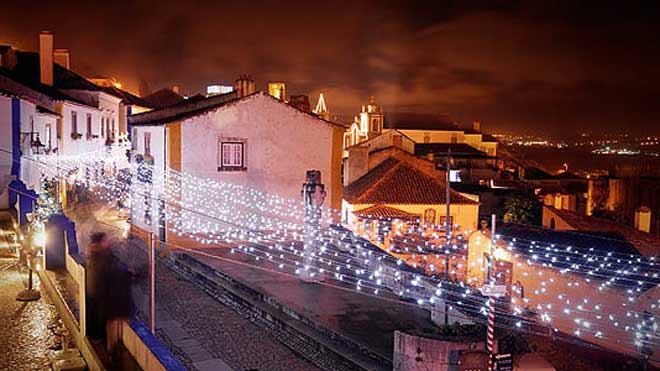 Photo: Óbidos, Vila Natal by © C. M. Óbidos

In some regions, such as Bragança, Guarda and Castelo Branco, a tree is still burnt overnight, a large bonfire in the churchyard. It serves as a meeting place to meet friends and neighbours and wish them a Merry Christmas. To participate in this tradition, we recommend that you visit "Cabeça - Aldeia Natal" (Christmas Village) in the municipality of Seia.

On the 6th of January, on the Three Kings Day, the festivities come to an end with the "Janeiras". On the street or in monuments and churches, you will hear traditional songs wishing a Happy New Year.

The Christmas season is also favourable for musical programmes and a lot of entertainment in the historic centres of towns and villages such as Lisboa, Porto, Guarda, Viseu, Leiria, Óbidos, Sintra, Cascais, Santa Maria da Feira, Vila Nova de Gaia, Penela, Penamacor, Loulé or Vila Real de Santo António.

Merry Christmas!
---