Discovering Lisbon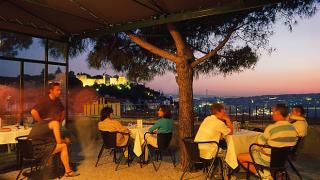 Lisbon is a city that makes you want to go exploring, to discover whatever might appear in every neighbourhood, on every street. It's a safe and friendly city, relatively small but with so much to see. It's an ideal place to spend a few days or as a starting point for touring the country. It's old. It's modern. It is, without doubt, always surprising.

You can choose a topic or a theme to explore it. The range is wide: Roman Lisbon, Manueline, Baroque or Romantic Lisbon, literary Lisbon, the Lisbon of Bohemian nightlife, the city of Fado. And there are also very different ways of exploring: by foot, by tram, by segway, by hop-on-hop-off bus, in a tuk tuk, seen from the river on a boat trip or from the other side, after crossing the Tagus on a cacilheiro ferry... the suggestions are endless.

However, there are some essential sites that simply cannot be missed, and are always on the list. Like the historic Alfama and Castelo districts, with one of the most fabulous views over the city and the river.

You must go from downtown towards Belém, the neighbourhood of the Discoveries, with the Belém Tower and the Jerónimos Monastery, both World Heritage. But also with the original Coach Museum and the modern Belém Cultural Centre. Oh, and don't forget to taste the delicious pastéis de nata (custard tarts)!

Leave Chiado and Bairro Alto for the late afternoon and the evening. These are guaranteed nightlife spots, as is Cais do Sodré, nearer the river.

The new part of the city cannot be forgotten either. Be it to visit some key museums such as the Calouste Gulbenkian, in the north, or continuing along the river, the National Tile Museum. Carry on to the Parque das Nações (Park of Nations), the port area which was completely rebuilt for Expo '98, the 1998 World's Fair. It is now an important recreational space with a new urban landscape.

Here we highlight the city's different neighbourhoods. Your visit plan will be more complete armed with "10 things to do and see in Lisbon" and the "Lisbon in a day" itinerary.

In addition to all the places to visit in the city throughout the year, Lisbon also hosts many other events that enliven the city and are announced in our programme. One thing is sure: Lisbon is an unforgettable city!


---