Torre de Belém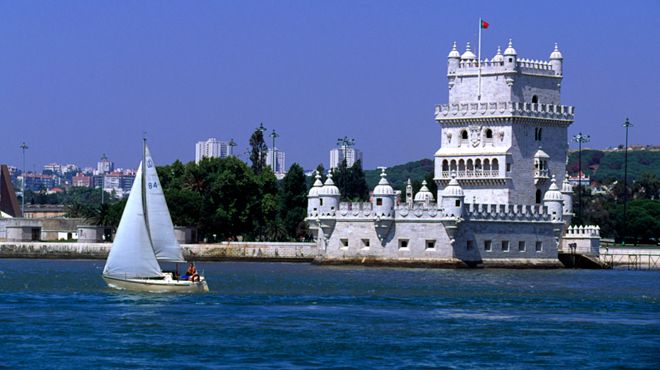 Torre de Belém
The harmony and delicate ornamentation of the Tower of Belém suggests a finely cut jewel to all laying eyes on her. However, its contemporaries took a rather different perspective: a formidable and imposing bastion defending the entrance to the Tagus and capable of combining firepower with the St Sebastian tower on the other bank of the river. Its construction was ordered by king Manuel I (1495-1521) and it was built by Francisco de Arruda between 1514 and 1521. The tower was built on a basalt island that was close to the right bank of the Tagus in front of Restelo beach. However, with the gradual change in the course of the river, the tower has ended practically swallowed up by the bank.

The tower takes on a quadrangular shape reminiscent of medieval castles and has a polygon bulwark, a defensive feature that meant it could withstand heavy bombardment from out at sea. The watch posts, complete with burgeoning cupolas and located on each corner, demonstrate the influence of Moroccan fortifications. Apart from such Moorish influences, the decoration otherwise takes on the Manueline style in the surrounding stone layouts, the heraldic designs and even the famous rhinoceros, the first stone statue of the animal in Europe.

The most highly decorated side of the Tower is south facing, with its narrow balcony. On the cloistral wall that rises above the bulwark, there is a sculptured image of the Virgin with Child dating back to the 18th century, forming the prow of the tower.

The interior is worth a visit simply to get up to the top floor with the effort paid back many times over by wonderful views over the river Tagus estuary and the western side of a city that is still able to evoke the Era of Discovery in Portuguese history.

In 1983, the Tower of Belém was classified World Heritage by UNESCO.
Contacts
Address:
Av. de Brasília
1400 Lisboa
Telephone:
+351 21 362 00 34 / 38
October/April: 10am - 5.30pm (last visit at 5p.m.); May/September: 10am - 6.30pm (last visit at 6p.m.). Closed Mondays, 1st January, Easter Sunday, 1st May and 25th December.
---
---