World Heritage in Portugal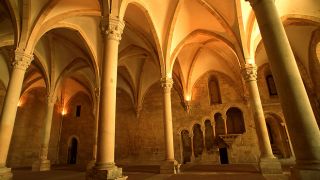 In Portugal, culture and heritage have unique characteristics stemming from historical events and the outlook of a people who, as they learned from the rest of the world, adapted this new knowledge to their way of living and their land.

As you travel through the country, you'll realise what these features are that make up the Portuguese character. You'll see them in cities, monuments and landscapes, which in their own way also tell a part of the history of the world. For this reason, they were listed as World Heritage.

UNESCO has already granted World Heritage status to 18 cases, including historic centres, archaeological sites, cultural landscapes, natural parks and intangible heritage. These Portuguese contributions to world history are unmissable and the perfect excuse to know the country from north to south.

Historic Centre of Guimarães
Guimarães has a high symbolic value for the Portuguese identity as the birthplace of the nation in the 12th century. The well-preserved city reflects the progress of civic architecture from the Middle Ages to the 19th century. The specialist construction techniques developed here were applied the world over in the Portuguese colonies, from Africa to the New World.

Historic Centre of Porto
The landscape of cascading houses tumbling down to Ribeira, by the River Douro, and the waterfront area in Vila Nova de Gaia depict the history of this city linked to maritime activity since Roman times. The Cathedral and the Clérigos Tower, symbols of Porto, the opulence of the buildings, the Baroque churches, the Neoclassic Stock Exchange make this an exceptional urban landscape with a history stretching back thousands of years.

Alto Douro Wine Region
The vines that produce the famous Port Wine grow in the majestic River Douro valley, the oldest demarcated wine region in the world. Its characteristics and the work of Man who has fashioned the valley into terraces over the course of many centuries have transformed it into a unique landscape of exceptional beauty.
---