Luxury lies in simplicity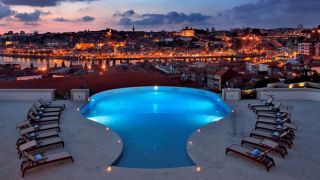 Luxury has broken boundaries and is not found only in gold, diamonds or ostentation. In Portugal, luxury lies in simplicity, in the authenticity of what is genuine.

From north to south, or gazing out to the islands of the Azores and Madeira, let yourself be seduced by the incomparable beauty of the diversity of natural landscapes, and their fauna and flora, not to mention the untouched charm of the Natural Parks, the waves that will entrance you throughout the 850 kilometres of white sandy beaches, which make the land of Portugal a reference destination for nature lovers.
Do not miss the part of the world's history that is embedded in UNESCO's World Heritage monuments, as well as the rest of the cultural and historical heritage, which also shine through in the sounds of fado and Portuguese guitar and Cante Alentejano [Alentejo Singing]. If you are a fan of contemporary architecture, you will fall in love with the works of award-winning Portuguese architects such as Álvaro Siza Vieira and Eduardo Souto de Moura, along with many others that are scattered around the country.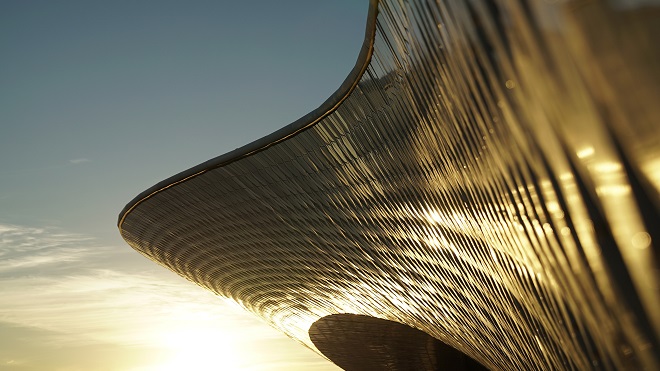 Photo: MAAT © Arquivo Turismo de Portugal
In Portugal, we offer you the luxury of trying unique experiences and sensations while enjoying the authentic taste of what is produced by traditional artisan methods, with unquestionable quality. There will be plenty of opportunities to appreciate an extensive variety of delicacies to please all palates, such as fresh fish straight from the sea, grilled with just a little salt.
To accompany the repast, the Portuguese go for wine, otherwise Portugal would not be a country with a great wine tradition, with high quality wines of exclusive character, which make them a benchmark among the main producing countries. And to finish off the meal, you simply must try the 'conventual sweets' - doces conventuais. If sophistication and refinement are what you really want, head for one of the Michelin-starred restaurants where the signature cuisine is in the hands of truly distinguished chefs.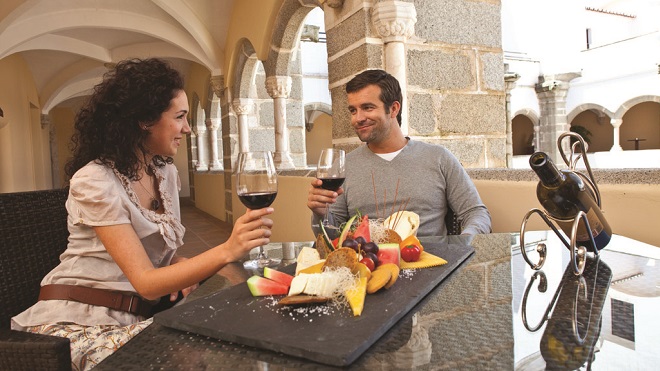 Photo: Pousada dos Lóios - Évora © Turismo do Alentejo
Take your time and make the most of your stay by enjoying the long tradition of the Portuguese art of hospitality. Whether it is in a Pousada, where you can relax in a medieval convent, in a modern hotel where design is king, or in a Rural Tourism enterprise where the welcome and authenticity are unbeatable, everyone shares the enthusiasm to provide you with a memorable experience, saluting you with refinement, comfort and first rate service.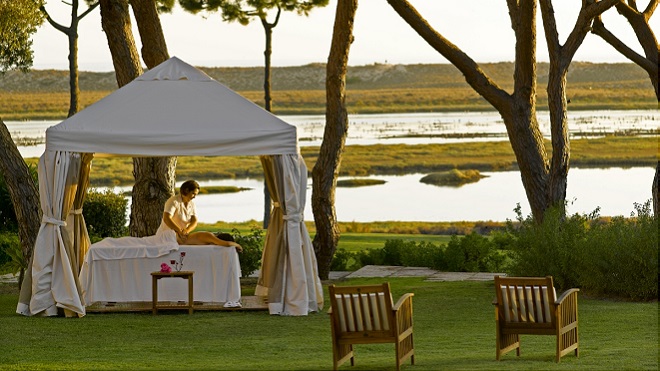 Photo: Quinta do Lago - Algarve © Quinta do Lago
You can also take the chance to adjust the equilibrium of mind and body in one of our spas, which offer full treatments bearing the signature of leading international brands. Set aside some time to look after yourself with plans tailored to suit you, in the Algarve or Madeira, which are outstanding in this area, though of course you will find quality facilities in hotels and thermal baths in every region in Portugal.
If you prefer a relaxing round of golf in Portugal you will find a mild and sun-blessed climate, and a selection of luxury professional courses set in natural surroundings all around the country and its islands. Along the Algarve coast is where you will find the largest number of golf courses, and you can round off your stay with entertaining night-life and exclusive resorts.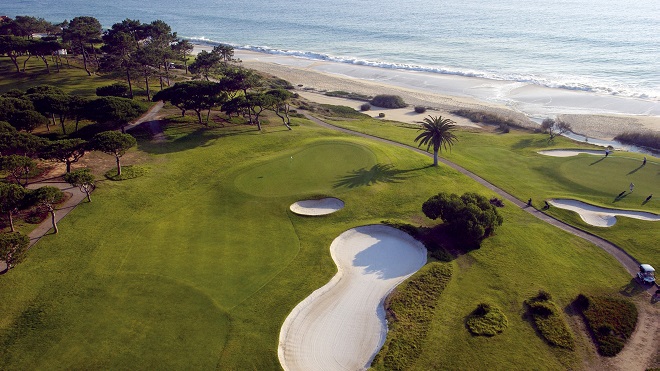 Photo: Vale do Lobo - Ocean Course - Algarve © Vale do Lobo
For lovers of the sea, Portugal offers wave beaches for all tastes and of all types. From the tubular wave of Peniche, perfect for surfing and bodyboarding, to the giant waves of Nazaré, which present a great challenge for the most fearless surfers. One of the best places for surfing is Ericeira, the first World Surfing Reserve in Europe and the second in the world. The environmental quality of the beaches is also an attraction, confirmed by the Blue Flags awarded to the 292 coastal beaches, 28 river and 14 recreational ports.
The visit would not be complete without saving some of your time to wander round the shops and markets, where you are bound to come away with some souvenirs. The difficulty will be in choosing, from shops offering traditional Portuguese products that have spanned generations, to the creations of Portuguese internationally recognised designers, in fashion, footwear and design.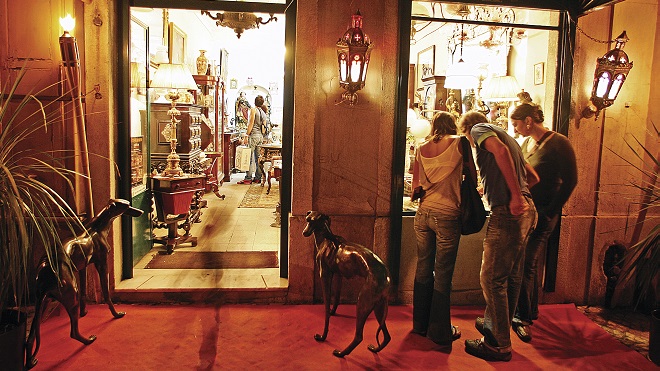 Photo: Lisboa Shopping © José Manuel
If your preference is jewellery, you should know that Portugal has a long tradition in this art, prized all over the world, combining the best of the Portuguese tradition with modern design. The rich filigree pieces, in gold and silver, and entirely handmade, are fine examples of this. On this shopping itinerary you will also find embroidery, tapestry and lace, pottery and earthenware, wrought iron, cork, basketry and brass, and even products to sweeten the palate.
But if you prefer the allure of internationally renowned brands, you can take the opportunity to stroll around Avenida da Liberdade, Chiado, Bairro Alto and Príncipe Real, in Lisbon, or further north in Porto, the destinations are Avenida da Boavista, Rua de Santa Catarina, the Ribeira and Clérigos areas, and Rua Miguel Bombarda.
Whatever luxury experience you're seeking, Portugal is every visitor's dream. What are you waiting for?
---