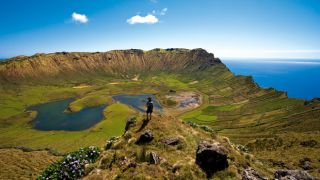 Corvo, considered by UNESCO to be a World Biosphere Reserve, forms, together with the island of Flores, the Western Group of the Azores archipelago. Its origins are volcanic, and it is the smallest of the nine islands, with an area of only 17.1km2.

Corvo and Flores were discovered at the same time by the Portuguese explorer Diogo Teive, around 1452, and it was initially called Insula Corvi.

The only settlement on the island, Vila Nova do Corvo, is located in a lava fajã which forms the island's main level surface. It is a picturesque and unusual village which features facades of black stone with white trimmed windows and doors, and narrow streets, locally called canadas, paved with rolled pebbles and weathered slabs. The use of wooden locks on the doors of the houses, made by the craftsmen of Corvo, is one of the remaining traditions that symbolises life on a peaceful island where everyone knows everyone else.

It is worth visiting the Church of Nossa Senhora dos Milagres (the island's patron saint) which contains a picture - the Virgin and Child, of Flemish origin - and an Indo-Portuguese ivory crucifix, as well as the Corvo Visitors' Centre.
---
---