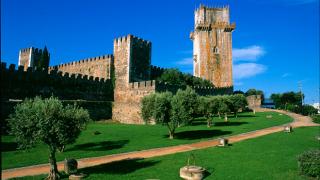 ---
Don't miss
have tea at Maltesinhas, an old Tea Room
climb to the top of the Castle Keep
read the "Letters From A Portuguese Nun", by Mariana Alcoforado
We visit Beja in an atmosphere of peace and discover stories of conquests and lost loves.

We begin with a visit to the Torre de Menagem (the Keep) of the Castle, which was so important in the battles to defend Portugal's borders. With its 40 metres of height and built entirely of marble, it is the landmark of Beja. It is worth your while to climb to the top, from which you can see the city and the surrounding countryside of the Alentejo.

Close by is the Santiago Church, the Cathedral and the Santo Amaro Church, where the Visigothic collection of the Regional Museum is located. Following along Rua D. Manuel and after passing in front of the University, a building that was formerly a hospital, we arrive in the heart of the city, the Praça da República.

Around us are the buildings of the Manueline style, which add a special note to the square, which also has a pillory of the 16th century as well, and the Misericórdia Church, a major Renaissance work. Then we follow the Rua do Touro and come to the Jorge Vieira Museum, named for a prominent Portuguese sculptor of the 20th century, who is noted for his figures in terracotta.


---
---