Cascais and the Estoril Coast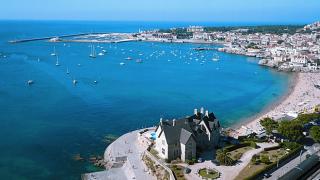 ---
Don't miss
have a meal of fresh fish, with a view of the sea
discover Cascais by bike
eat an ice-cream by the sea
go to the beach
learn how to surf
have fun on summer nights in Cascais and Estoril
Cascais and Estoril, or the coast north of Lisbon, became one of the most cosmopolitan and touristic places in Portugal ever since King Luís I chose the bay for his summer residence in the late 19th century.

The mild climate and an annual average of 260 rainless days were surely strong reasons for his choice and for the most affluent families of the time to follow the royal family and set up their villas and mansions there. It's worth going on a stroll around town to get a feel for the atmosphere of that period.

To get there, follow the waterfront road from Lisbon to Cascais or take the train. It's a very scenic route, always hugging the River Tagus and the busy beaches of the Estoril coast. En route, you will pass various forts erected to defend the capital, providing crossfire with the Bugio Fort, right in the middle of the river mouth, between Santo Amaro, on one side, and Trafaria, on the opposite bank.
---
---