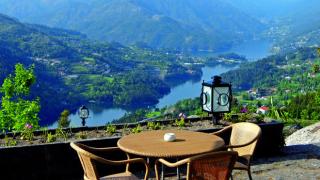 ---
Don't miss
visit the Vidoeiro [Vidoeiro] Environmental Education Centre and gather information at the Gateways to the Park
go on some of the short footpaths, which have conventional signs on the ground
watch the sunset over the dam from the Caniçada Pousada
The Peneda-Gerês National Park, in the far northwest of Portugal between Upper Minho and Trás-os-Montes, is the only Portuguese protected area classified as a such.

It is a world apart in which human activity and nature are harmoniously integrated, preserving ancient values and traditions clearly evident in the village communities of Pitões das Júnias and Tourém.

The lush vegetation in all shades of green includes a forest of holly, the only one in Portugal, and endemic species such as the Gerês lily, which brightens up the fields with its shades of violet-blue. Rivers and streams flow through the Peneda, Soajo, Amarela and Gerês mountain ranges, which comprise the park, rushing down in waterfalls and then spreading out into reservoirs. The landscapes are breathtaking.

You might sometimes manage to spot a roebuck (the Park's symbol) or its predator, the Iberian wolf. More common are the ponies, small wild horses that run free in the mountains. You may also come across the Barrosã breed of cattle or the dark-haired Castro Laboreiro dogs, guarding the herds that move to the rhythm of the seasons, between the mild and the wintry. These are the villages and mountain areas related to the ancient transhumance, to where the people today move only the cattle: valleys and low altitudes in winter, the highest places in summer, according to the availability of pasture.
---
---