The Wines of Centro de Portugal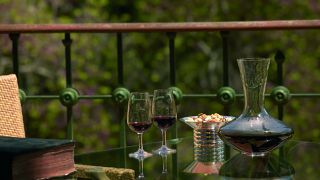 With its great diversity of landscapes and climatic conditions, Centro de Portugal produces excellent wines that go well with the regional cuisine.

Bairrada Wines
Situated in the coastal strip between the ocean and the Serra do Buçaco, the Bairrada region is influenced by the Atlantic Ocean, with abundant rainfall and mild temperatures. This cool and moist climate produces grapes with high acidity and low alcohol content, ideal for making sparkling wines. It was in this region, in 1890, that this type of wine was produced for the first time in Portugal, especially the "Dry" variety, which is the perfect accompaniment for suckling pig, the speciality of the region's cuisine.

Bairrada also produces white wines with a citrine colour and fruity aroma; reds, whose garnet to ruby colours adopt brownish tones with aging; and also marc brandies. You can get to know the history of these nectars at the Bairrada Wine Museum in Anadia, or by visiting the farms and wineries where they are produced, some in traditional cellars, others in contemporary facilities designed by renowned architects.

Dão Wines
Inland, the River Dão gives its name to a wine region that was the second to be demarcated in Portugal, in 1908. These wines were recognised for their excellence as long ago as the foundation of the Kingdom in the 12th century, when the clergy, particularly the Cistercian monks, promoted agriculture. Grown in granite and schist soils, the vineyards of the Dão are scattered across this mountainous area, which is protected from the Atlantic winds by the Buçaco, Caramulo, Montemuro and Estrela mountains.

The wines have an alcohol content of 12º and age well, even in the bottle. The whites have a citrine colour and fruity aroma and the ruby reds are full-bodied with a velvety consistency, and over time they acquire an accented bouquet. To better appreciate these features, there's nothing like a visit to the Solar do Vinho do Dão in Viseu, housed in the former Bishop's Palace of Fontelo, or to the producers' wineries, which are spread around the municipalities of Viseu, Mangualde, Nelas, Tondela, Sátão, Penalva do Castelo, Santa Comba Dão and Carregal do Sal.

Beira Interior Wines
There's yet another Denomination of Origin wine region: Beira Interior, which includes the Castelo Rodrigo, Cova da Beira and Pinhel sub-regions. Here, the vines are grown in the mountains between 400 and 700 metres, in a harsh climate where temperatures go below freezing in winter in contrast to the hot, dry summers. The combination of these factors gives rise to very fresh wines, in which a wide range of grape varieties is used, allowing the constant discovery of new aromas and flavours.

This discovery, as we have seen, can provide an excellent excuse to get to know the region better while tasting, relishing and toasting!
---