Horta: The most colourful marina in the world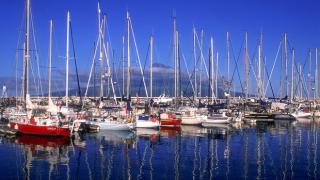 ---
Don't miss
enjoy a gin and tonic in Peter Café Sport
watch the sunset from the Marina in Horta, with the magnificent Island of Pico as a backdrop
wander around the marina and admire the various wall paintings by the yachtsmen
When on Faial, a visit to the Horta Marina is a must for the excitement of seeing the yachts moored there and for the great open air exhibition of paintings made on the jetty by all the visiting sailors.

This nautical amenity was opened in 1986, and is the modern extension of a harbour and bay of long-standing importance. The marina has space for 300 vessels, and is currently the fourth most visited ocean marina and certainly one of the most important in the world. It has held the European Blue Flag since 1987.

Its location offers an excellent shelter against the winds from any direction and makes it an almost essential stopover for the hundreds of yachts from different nationalities that call here annually on their voyages across the North Atlantic, and also for yachts travelling between the Caribbean and the Mediterranean.

Several international regattas are held here every year, usually directed at ocean-going cruiser yachts, with this marina acting either as the finishing line or one of the ports of call, making Horta a meeting point for many international sailing events such as Les Sables-Les Azores-Les Sables, Atlantique Pogo, La Route des Hortensias, ARC Europe, Ceuta-Horta, OCC Azores Pursuit Race, amongst many others.
---