Faial, blue, cosmopolitan island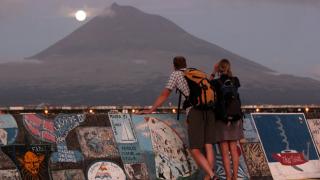 ---
Don't miss
take a picture of one of the island's symbols - the mills
visit the Botanical Garden of Faial, at Quinta de São Lourenço, in the Flamengos valley
Faial is located in the central group of the Azores archipelago, and is part of the so called "triangle islands", together with São Jorge and the neighbouring Island of Pico, separated by the Faial Channel, a narrow sea inlet about 8 km wide.

The Island covers an area of about 172km2, and is 21km long, with a maximum width of 14km. It was discovered in 1427 and colonised in 1432 by a number of Flemish settlers. It was given the name Faial because there are many beech trees here (faias), but no other island can boast such a huge mass of hydrangeas in different shades of blue, which frame the houses, separate the fields and border the roads, justifying the nickname Blue Island.

Faial underwent considerable development from the 17th century on, making it an important trading post due to its geographical position as a safe haven between Europe and the Americas. More recently it was the communications hub between the continents and today is a mandatory point of reference for international yachting.

The highest point is Cabeço Gordo, in the centre of the island, at 1,043m above sea level. It is a magnificent natural viewpoint which in fine weather enables you to see all the islands of the triangle and as far as Graciosa.

Close by lies a huge crater called Caldeira, about 2km in diameter and 400m deep. It is surrounded by blue hydrangeas and lush vegetation, amongst which cedars, junipers, beeches, ferns and mosses stand out, and some of which are important examples of the original vegetation of the island. This area, the Faial Natural Park, was the first Portuguese tourist destination awarded the EDEN prize (European Destination of Excellence).
---