Pico, Faial and São Jorge – the "Triangle Islands"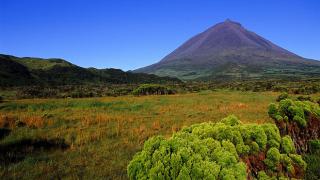 The entire Azores archipelago is beautiful and worth a visit, but due to their proximity, Pico, Faial and São Jorge form the so-called "Triangle" of the Central Group of islands that encourage you to cross the sea to get to know your surroundings.

The Triangle: Faial in the foreground, Pico in the background and to the right, and to the left, stretching between the sea and the sky... São Jorge. None of these three islands is similar to the others, and each has its own unique character, but they are all part of the whole. Their closeness and the numerous maritime links between them, makes this "Triangle" a fascinating, surprising destination.

The connections are made by the Atlanticoline shipping company, which runs year-round services. The frequency of crossings increases according to the months. The channel crossing between Horta (Faial) and Madalena (Pico) takes about 30 minutes, and is served by 4-6 trips a day. An alternative route allows you to cross between Horta and Velas (São Jorge), with a stop at São Roque (Pico). Using these scheduled ferries is an easy and economic way to travel between the islands and has the added bonus of spectacular alternative views, and sometimes you can see dolphins.

From May to September, the "triangle" ports are visited by the Santorini Express, operated by Atlanticoline, a ship equipped with cabins that takes the long route between eight of the Azores islands, from Santa Maria to Flores. The opportunity to transport vehicles - from several classes of car to trailers, quad bikes, jetskis and bicycles – makes this cruise an excellent choice for moving comfortably between the Western, Central and Eastern groups.
---