Fátima, a journey to the altar of the world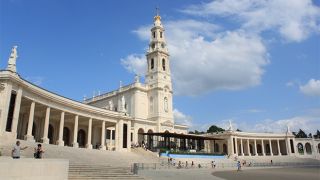 The Shrine at Fátima is one of the most important landmarks in the Marian cult, drawing pilgrims from all over the world.

The location of the Shrine of Fátima, at Cova da Iria, had until 1917 been an unknown place in the municipality of Ourém, in the parish of Fátima. That year, a religious event changed its history and importance for ever, when three little shepherds, Jacinta and her two cousins, Francisco and Lúcia, witnessed successive apparitions of Our Lady of the Rosary. Initially looked at with suspicion by the Church, albeit cherished by the people, the phenomenon was not acknowledged by the Bishop of Leiria until 1930. From then onwards, the development of the village boomed, leading to Fátima being given town status, in 1977, and city status in 1997.

The world renown of the Shrine increased during the papacy of John Paul II, a confessed devotee of Our Lady of Fátima, who travelled there in 1982 to give thanks for having survived an assassination attempt the year before. In 2000, on his third visit to the site, he announced the beatification of Jacinta and Francisco, to whom the Vatican attributed the miracle of a cure.
---