Flavours of Alentejo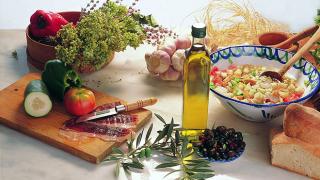 ---
Don't miss
enjoy the gaspacho
try the various migas (Alentejo bread soup) and açordas (Alentejo soup-like dish made with bread, eggs and herbs including corriander)
enjoy your meal with a fine regional wine
taste one of the regional cheeses
Creativity and imagination in using very simple ingredients has made Alentejo cuisine a surprising mix of flavours and proof of the hospitality of the Alentejo people.

The province was once a region of wheat and wide plains where herds of swine grazed freely in oak plantations and olive groves. Bread, pork and olive oil therefore became staples in one of the tastiest cuisines in Portugal, seamlessly combined with aromatic herbs such as coriander, parsley, rosemary, oregano, pennyroyal and mint.

One of the regional delights is the small dishes of tidbits. Whether as a starter or for tasting the specialities, scrambled eggs with wild asparagus, grilled peppers, pork crackling or migas (sautéed breadcrumbs and garlic) of various flavours and in various combinations are irresistible.

Soup, which can be the main course, is a must. It may be a gazpacho, served cold, or a dogfish, cod, or tomato and sausage soup, made with bread. The soup that you absolutely have to taste is the simplest of them all: açorda Alentejo style, made with water, olive oil, garlic, a poached egg, bread and coriander. Also made from bread are the migas which accompany fried pork or shredded cod, for example.

On the coast, it's worth trying fish fresh from the sea or other specialities, such as barnacles or dishes with clams, such as Alentejo-style pork.


---