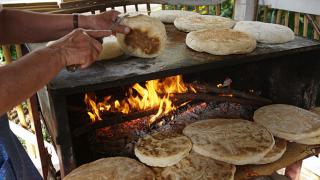 The simple cuisine of the Madeira Archipelago portrays the soul of a simple, yet generous people.

Here, the cuisine excels in the traditional and the modern, in a creative subtlety between the various high quality regional products, which enables a diversified menu of gastronomic specialities to be prepared, from regional dishes through to international and gourmet cuisine.

Right in the Atlantic, the fish such as black scabbard fish fillets and tuna steak, is tasty, and is prepared in the traditional way, accompanied by crunchy fried corn. The octopus and seafood, including limpets, periwinkles and many others, is also delicious.

As for meat, the most traditional dish is the famous beef kebab on a bay stick, which gives it an unmistakable flavour. Home-made couscous, wheat soup and wine- and garlic-marinated beef are also highly sought after.

In Madeira, a land of exceptional climate, there is a wide variety of crops, including sugar cane and tropical fruits (from the much appreciated bananas to pineapple, avocado pear, custard apple, mango and passion fruit), which are also used in drinks and delicate desserts.

The famous Madeira wine, made from more than 30 grape varieties, the best of which are Sercial, Boal, Verdelho and Malvasia, is drunk as an aperitif or a digestive, and is perfect to accompany the traditional (sugar cane) honey cake. It is also from sugar cane that the famous poncha brandy is made, prepared with honey and lemon, to be tasted when you climb to the Areeiro Peak.

The bolo do caco is a must. Only this is not a cake, but bread baked on a piece of tile which usually accompanies kebabs with garlic butter. Bread in Madeira is also made from yam: the delicious small ring-shaped yam loaves. Queijadas cheese cakes and the fennel boiled sweets are also in great demand.

Come and enjoy Madeira's delicacies, which will surely make your stay a memorable one. Combine the pleasure of socialising with the pleasure of tasting!
---
---