Graciosa, the white island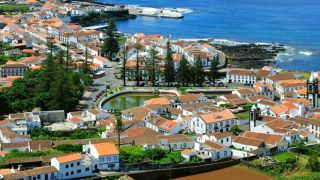 The Island of Graciosa, classified by UNESCO as a World Biosphere Reserve, is the northernmost of the five that make up the central group of the Azores archipelago. It is known as the White Island, a designation inspired by the island's geomorphological characteristics and place names, in particular those given to places like Pedras Brancas (White Stones), Serra Branca (White Hills) and Barro Branco (White Clay).

The island has just one municipality, Santa Cruz da Graciosa, comprising four parishes: Vila de Santa Cruz, Vila da Praia, Guadalupe and Luz. Santa Cruz is notable for its typical houses and its narrow cobbled streets, which branch out from the large central square where you can see the bandstand, some water tanks and candelabra trees. It is worth visiting the Parish Church of Santa Cruz da Graciosa, the Church of Santo Cristo, the Cruz da Barra and the Ethnographic Museum, which houses exhibits linked to wine culture, with traditions on the island, and to whaling. In Vila da Praia, the highlight is the Church of São Mateus, which has a pipe organ dating to 1793, one of the finest of the Azores, and in Guadalupe, the church of the same name, dating from the 17th century.

There's a wonderful panoramic view of Santa Cruz, the northern part of the island, from the Mount of Nossa Senhora da Ajuda. In this area you can also visit three shrines dedicated to S. João, S. Salvador and Nossa Senhora da Ajuda. The latter is one of the best examples of "fortified religious architecture" in the Azores. Attached to it is the "pilgrim home" designed to accommodate those who went there on pilgrimage.

The architectural heritage of the island is preserved in various types of buildings, particularly churches, chapels, cottages, and a curious "water course architecture" associated with a centuries-old network of reservoirs and drinking water supply systems. Another interesting feature of the island's landscape is the windmills with red cupolas, of Flemish influence, that testify to the abundant production of cereals in former times.

The Caldeira da Graciosa is the most emblematic element of the island's landscape. Classified as a Regional Natural Monument, this large, beautiful crater also contains the Furna da Maria Encantada (Cave of Enchanted Mary) and the Furna do Enxofre (Sulphur Cave), veritable shrines to Mother Nature.
---