Gastronomy from the Centro de Portugal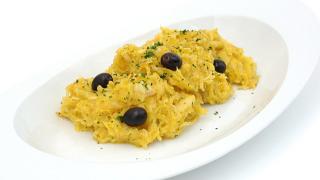 In Centro de Portugal you will be delighted by flavours from the sea and the mountain, by sweets that will make you beg for more, all with the added spice of the warm welcome of the people, who love to receive visitors with an abundant table.

The coast offers fresh fish and shellfish that can be relished in casseroles and stews, especially the eels in the Aveiro region. Inland, many rivers and lakes provide other types of fish, such as trout which, simply grilled, is a delicious delicacy.

Cod, an essential part of the menu all over Portugal, has a place of honour in Ílhavo. It is said that there are a thousand and one recipes to prepare cod, so you should be sure to try at least some of them. Meanwhile, enjoy a visit to the Ílhavo Maritime Museum and see the vessels formerly used to fish for cod - the Santo André and the Santa Maria Manuela – from which you will learn more about the hard labour that took the brave sailors across distant seas to icy Greenland and Newfoundland, to fish and salt this delicacy.

Amongst meat dishes, we would particularly mention the roast suckling pig, which attracts people from all over the country to restaurants in Bairrada. Further north, in Viseu, you will often find Lafões-style roast veal on the menus, and in the Castelo Branco region the focus is on pork prepared in different ways - bucho recheado (pork loin haggis) and maranhos (Portuguese pork, goat and rice haggis), and a variety of typical sausages, each with its own flavour. Roast kid appears throughout the region and in mountainous areas you will love the goat chanfana (casserole), cooked slowly in red wine.

Cheese has an important place in the region's cuisine. The most celebrated is undoubtedly the famous Serra da Estrela Cheese produced in the Serra da Estrela mountain area. Semi-soft and buttery, it can be found throughout the year, but to have a wider choice and taste all the variants, there's nothing like a visit to the cheese markets in February and March. There are many other cheeses not to be missed, too, such as Rabaçal, from the Ansião and Penela area, Castelo Branco, and the spicy Beira Baixa with its strong aroma. As the range is so large, it's best not to choose, but to buy one of each.

As for sweets, you simply must taste the ovos-moles ("soft-eggs") in Aveiro. They come packed in wooden barrels or encased in wafer pastry, so enjoy them strolling around the city or take them home as a gift. Eggs and sugar are also the main ingredients of the pão de-ló (a type of sponge cake) from Ovar and the castanhas de ovos ("egg chestnuts") from Viseu, both of which delicacies not to be missed. And you must not forget the pastries – those from Tentúgal, Vouzela and Santa Clara in Coimbra are the names to remember when you visit a pastry shop.

All these specialties are based on regional products of excellent quality. You can try and take some of them with you, like Olive Oil from Beira Baixa, which has a protected designation of origin, or the honey that is produced in the Naturtejo and Serra da Lousã areas and many other mountain ranges. In cherry season, all roads lead to Cova da Beira, one of the major production areas for this delicious fruit. These are just some examples of how much there is for you to try, but there are always other aromas and flavours waiting for you.
---