3 Days in Portugal
In the extreme southwest of Europe, Portugal is a unique country that justifies a delayed visit. Bathed by the Atlantic Ocean, it is a country known for its beaches and the practice of outdoor activities and the fact that it has a good climate, with mild winters, allows it to be visited all year round. The vast cultural heritage is somehow represented by the 21 UNESCO classifications as World Heritage, that reflect the most important periods of Portuguese history and culture.

However, if you only have 2 or 3 days to visit Portugal, we suggest you to visit at least Lisbon and Porto, the two most important cities in the country.

Two days in Lisbon Region

Day 1
The historical neighbourhoods of central Lisbon are perfect for visitors. Their culture, the history, the architecture and the people are fundamental aspects of Lisbon's identity. The Bairro Alto is one of the most characterful and attractive neighbourhoods in the city – it has boutiques and bars and is a place where people meet in an eclectic and multicultural atmosphere.



Photo: Chiado, Lisboa by José Manuel

From Bairro Alto stroll down to Chiado, the sophisticated hub for the city's young people, artists and intellectuals. It is an area of iconic cafés including "A Brasileira", art schools, and theatres.
The Carmo area, next to Chiado, has some fascinating historical sites, such as the Convent and Church of Carmo, which maintains their elegance and grandeur. Carmo is connected to Baixa by the Elevador de Santa Justa, designed by a disciple of Gustave Eiffel, Raoul Mesnier du Ponsard. It is open to the public and boasts impressive views over the downtown of Lisbon.
The Baixa is the city's traditional shopping district where visitors can stroll around the streets and find dozens of shops offering a wide range of "temptations".
When there is no time to shop during a tour of the historic districts of the city, you can concentrate all your energies on the shopping centres: Amoreiras, Columbo and Vasco da Gama are the largest, but Campo Pequeno and Saldanha are also alternatives worth considering.



Photo: View from São Jorge Castle, Lisboa

Highlights
Start your tour at Miradouro de São Pedro de Alcântara and walk around downtown Lisbon and Chiado

- Visit to Lisbon São Jorge Castle and walk down Alfama
Although it was at the castle that everything began, historical sites can be found across the city. As the capital of the Portuguese Empire, Lisbon boasts a thousand years of history, and is peppered with monuments of great importance, reflecting the key moments in the country's history.

- Visit Terreiro do Paço and Rua Augusta Arch
Rua Augusta is the main artery of the Baixa Pombalina leading north from Terreiro do Paço (known as Black Horse Square by the English), to the beautiful Praça do Rossio (Praça Dom Pedro IV).

- Shopping in Avenida da Liberdade
Discover Avenida da Liberdade, which in the 19th century was the favourite promenade for the Lisbon elite. Today, the Avenida is home to exclusive international boutiques to tempt and inspire.

- Take a tram tour through the historic districts

- Dinner in a Restaurant with Fado

---
Day 2

Sintra
In the morning, visit Sintra Downtown and Pena National Palace (UNESCO Heritage).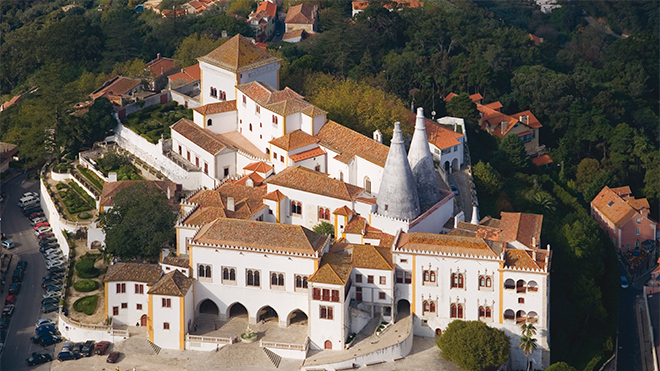 Photo: Palácio da Vila, Sintra

Sintra is an inexhaustible attraction. The perfect symbiosis between nature and its built heritage led to its classification by UNESCO as World Heritage, at the category of Cultural Landscape, in 1995. The town has been adored over the years by artists and writers from all over the world and the passion for the town reached its peak in the 19th century, in the heart of the romantic era. Essentially, it is the perfect fusion between natural richness and the magnificence of its monuments, combined in an extreme beauty.
In the Historic Town Centre, stands the Paço Real, one of the many monumental buildings surrounded and watched over by the grandeur of the Serra de Sintra, which offers endless different walks.
Sintra has unique examples of parks and gardens and has influenced many European landscapes. The highlights are Parque da Pena and Jardins de Monserrate. High in the Serra, on one of its steep peaks, we can find the Palácio da Pena, the most complete and notable example of Portuguese Romantic architecture, recently restored and painted in the original colours and standing out among the surrounding greenery. Built on the site of the ruins of the Mosteiro Jerónimo de Nossa Senhora da Pena, the palace dates back to 1839.



Photo: Cabo da Roca

Visit Cabo da Roca and return to Lisbon taking the coastal road of Cascais and Estoril. Cabo da Roca is the most westerly point in mainland Europe and it was immortalised by the poet Camões as the place "where the earth finishes and the sea starts".

Belém
In the afternoon, visit the neighborhood of the Discoveries. Next along the riverside it has a large number of heritage sites connected with the Portuguese voyages of discovery. It was from the beach in Belém that Vasco da Gama, in 1497, set sail to discover the sea route to India and the grandiosity of the former empire can be sensed throughout the area. One of the most imposing symbols of the city is here - the Mosteiro dos Jerónimos, the construction which was started in 1501 by King Manuel I and finished a century later. Royal, religious, naturalist and nautical decorative elements combine to create a building that is considered the jewel of the distinctively Portuguese Manueline style, and has been recognised as a World Cultural Heritage site by UNESCO.



Photo: Belém


---

One Day in Porto
On a brief visit to Porto, there are some places that cannot be missed. Many visitors agree the city has something mystical that is difficult to describe and which varies according to the place, time of day and light.

Morning - Visit Douro Region
Porto's best known images show the views over Porto riverside (the "Ribeira") and Vila Nova de Gaia wharf. It is the arrival point of the unique Rabelo boats that transport the wine to the cellars where it ages but also the starting point of many cruises that go up the river Douro. The Douro Valley Region is classified as World Heritage by UNESCO and it is the oldest demarcated wine region in the world, where Porto wines and Douro wines are produced.



Photo: São Bento train station, Porto

Afternoon - Visit Porto downtown
Walk around the old and narrow streets, passing by the most interesting landmarks of the city including the Cathedral, the Clérigos Tower, ex-libris of the city, the exquisite book shop LELLO, the old grocery shops and boutiques, the colourful squares, and the new quarters of Cândido dos Reis street and Galeria de Paris street, where one can find and enjoy the best of the night life in Porto downtown with its trendy and design cafés and bars.
Don't miss the Café Guarany, Bolhão traditional market, Sta Catarina street, the best shopping area where you can find the historic Café Majestic, and São Bento train station, covered with painted glazed tiles.
From the city centre, go down towards the River Douro and Ribeira old quarter. It is one of the most attractive districts of Porto, in which you get a feel for the ancient vernacular ambience.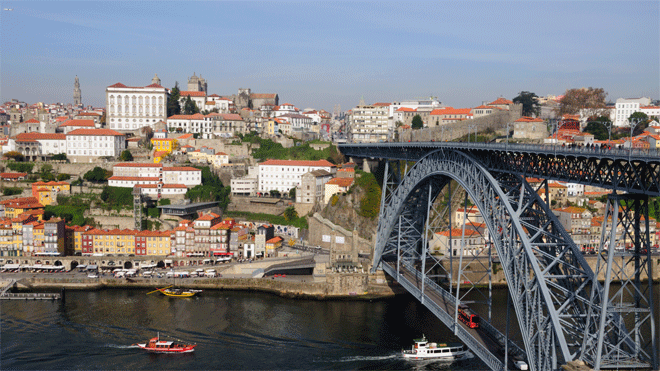 Photo: View from Serra do Pilar, Porto by Rui Rebelo

Highlights

- Starting point: São Bento Train Station
In the old downtown, São Bento Train Station is the point of arrival by train and a key geographical reference from where you can start any tour of the historical center, classified World Heritage by UNESCO. In the train station, don't miss the impressive main hall covered with glazed titles depicting historic scenes.

- Porto delicatessen
Try a francesinha (a sandwich with cured ham, sausage, and steak covered in molten cheese and a hot tomato and beer sauce), one of Porto's specialities, as well as fresh fish, seafood, or some codfish cakes.

- Porto school of Architecture
Porto is also known for its school of architecture. One of the most important references is the Serralves contemporary art museum, a work of Álvaro Siza Vieira, one of the foremost architects of the Porto School and winner of the Pritzker Prize.

- The best views
Porto has some belvederes that offer unique views over the city. Try the top of Luis I Bridge, crossing the river to Serra do Pilar Monastery, the historical Clérigos Tower, the precinct of the Cathedral and the gardens of Palácio de Cristal (Crystal Palace). All of them are worth visiting.
---
Visitportugal WeChat
If you're looking for information about Portugal, please follow the official Visitportugal Wechat
---
Web Summit 2017 - What to do near Lisbon?
From November 6th to 9th, 2017, Portugal will be hosting the Web Summit for the second time in a row, one of the top events on the technology calendar, where new trends and innovative projects are unveiled. It is an excellent opportunity to get to know Lisbon and places nearby.

Lisbon
Lisbon is a modern capital with excellent accessibility. Start with the city centre area known as the Baixa. This is the heart of the city, where you will find Santa Justa elevator and the monumental square Praça do Comércio that opens on to the River Tagus. Climb to the Castle of São Jorge and stroll through Alfama to listen Fado. Take a tram ride to the Jerónimos Monastery and the Tower of Belém. Don't forget to try the delicious Pastel de Belém (custard tart).Learn more: 10 things to see and do in Lisbon




Sintra
(Half-hour drive, about 40 minutes by train)
Romantic and mysterious, the town of Sintra is truly unique. With its picturesque village, majestic palaces and fairy-tale castle, against a backdrop of mountains and lush forests, Sintra stands out as one of Portugal's most enchanting places. And guess what? It's only 30 mins away from Lisbon.
Learn more: Discovering Sintra


Cascais and the Estoril Coast
(Half-hour drive)
Since the 19th century, Cascais and Estoril have been among the most cosmopolitan locations and of greatest interest to tourists. Take the coastal road from Lisbon to Cascais. It's a pretty and pleasant trip with ample views of the river and ocean. You can visit the historic centre of Cascais, discover amazing restaurants or simply enjoy a lovely walk with friends and family.
Learn more: Visit Cascais and the Estoril Coast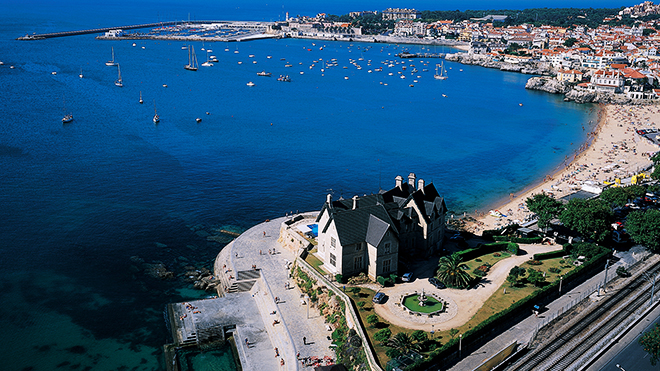 Troia
(1h drive)
The Troia Peninsula is a must-see destination with its extensive, highly prized beaches. There is a range of activities that can be enjoyed in a single day or over a weekend in Troia: outdoor sports such as golf or cyclin on dedicated paths, nautical sports such as windsurfing and sailing, boating, dolphin watching and walks on the beach, all while enjoying views sure to be etched forever in the memories of all visitors.
Learn more: A weekend in Troia




Óbidos
(One-hour drive)
The medieval town of Óbidos is a real time capsule. Recently recognised as a UNESCO City of Literature, Óbidos has become synonymous with romance and literature. History, crafts, great cafés and restaurants, churches and monuments, beautiful architecture, all just a few steps away.
Learn more: Visit Óbidos


---
Det bästa i Portugal
Välkommen till Visitportugal, den officiella webbplatsen för turism i Portugal.

Vi vill gärna inbjuda dig till att lära känna vårt land och hjälpa dig att organisera din resa.

Lär dig redan nu vad som gör att Portugal är ett ansett och erkänt resmål. Navigera bland våra förslag och tveka inte att kontakta oss om du har frågor.

Vi beklagar om webbplatsen inte finns tillgänglig på just ditt språk men du kan välja bland tillgängliga språk i menyn högst upp på sidan.




Portugal blev valt till Best Value Destination av Lonely Planet 2015 som ett av de bästa resmålen 2015 och med det bästa förhållandet mellan pris och kvalitet.

Redan 2014 föreslogs landet som bästa resmål av den spanska utgåvan av tidsskriften Condé Nast Traveler, efter att också ha valts till Best Value Destination 2014 i tidsskriften Rough Guide. Som huvudattraktioner i Portugal lyftes kultur, gastronomi, vin, stränder, golf, historia, landskapsvariation och framförallt gästfriheten hos det portugisiska folket fram. Spanjorerna ansåg dem vara vänliga, öppna och uppriktiga.


Lissabon och Porto
Lissabon är Portugals huvudstad och Porto den näst största staden belägen i norra delen av landet. Det är två pulserande städer fulla av historia som har bevarat en mänsklig dimension via deras historiska kvarter, monument och kakelfasader.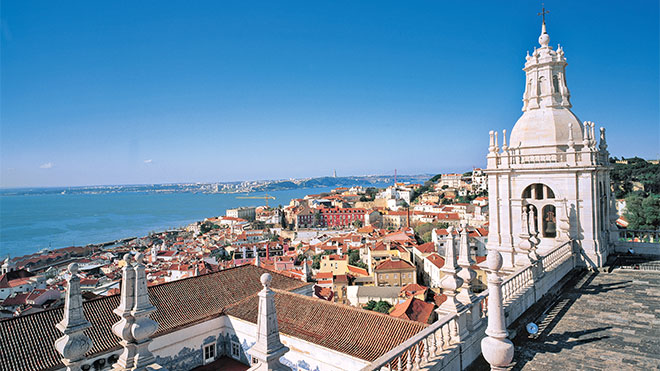 Lissabon kallas den vita staden eftersom solljuset reflekteras tillbaka av floden Tejo. Staden fick 2014 titeln Travellers' Choice av TripAdvisor som den också hade vunnit 2013, samma år som staden valdes till Bästa resmål för europeisk stadssemester av World Travel Awards.
Porto, som också givit namn till vinet som avnjuts i hela världen, blev 2014 återigen vald till Bästa europeiska resmål och staden är en av 14 topplistade städer att besöka enligt British Airways. Tidigare hade Porto tagit en andraplats bland växande resmål i Europa enligt Travellers'Choice 2013.


Sol och Bad
Den portugisiska kusten är nästan en enda lång strand som sträcker sig 850 Km. Ibland är den dekorerad med klippor som tillför något pittoreskt och en naturlig skönhet till de stora sträckorna av gyllene sandstrand eller de små vikarna som är inkapslade i klipphyllorna.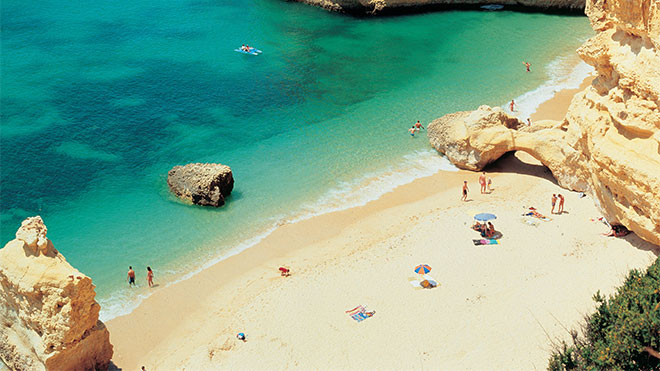 Algarvekusten är det mest kända resmålet för sol och bad i Portugal och har också belönats med pris som bästa europeiska stranddestination av World Travel Awards 2013 och 2015. Men i ett land fullt av sol och bad finns det naturligtvis även andra utmärkta stränder. I den sydvästra regionen Alentejo finns nästan helt oberörda stränder utmed en av de bäst bevarade sträckorna av den europeiska kusten medan regionen runt Lissabon bjuder på välbesökta stränder på Estorilkusten och den enorma stranden i Caparica.

Från norr till söder finns oräkneliga blåflaggade stränder och ett variationsrikt och solbränt utbud för olika individuella smaker.


Surfing
Man kan lätt förstå att Portugals långa kontinentalkust och ögrupperna Madeira och Azorerna bjuder på ideala surfförhållanden. Det är därför Ericeira i Portugal har blivit det första surfreservatet i Europa och det andra i världen med populära stränder som alla surfare känner till. Här finns perfekta vågor för alla smaker med tubvågor vid stränderna i Peniche, enorma vågor i Nazaré och Europas längsta vågor i Figueira da Foz.
I Portugal hittar de mest hyllade surfarna i alla klasser det största antalet platser med kortast avstånd mellan dem där de kan tävla i några av världscupens allra viktigaste tävlingar, t.ex. Rip Curl Pro Portugal. Här har rekord slagits som t.ex. den 30 m långa vågen som Garrett MacNamara surfade 2011!


Golf
Portugal har vunnit pris som världens bästa golfdestination (2013 och 2015) och Europas bästa golfdestination (2013 och 2014) i World Travel Awards. Detta är inte särskilt förvånande om vi tänker på att det är ett land med ett privilegierat klimat hela året om och att regionen runt Lissabon samt Algarvekusten har många prisbelönade golfbanor där stora professionella turneringar i sporten avgörs varje år.




Flera banor har anlagts av Robert Trent Jones, Rocky Roquemore, Sir Henry Cotton, Arnold Palmer och andra erkända golfarkitekter. Men vad som bäst definierar dem är deras obestridliga kvalitet och naturskönhet ofta placerade i naturskyddsområden och med havet som bakgrund.

Förutom de många utmärkelser som tilldelats regionens golfbanor har den prestigefyllda organisationen IAGTO valt Algarve till bästa golfdestination i Europa 2014, en titel som också tilldelades Lissabonregionen 2016.

Dessutom ansåg läsarna av Today's Golfer 2015 att Algarve var destinationen med bästa förhållande mellan pris och kvalitet (Europe's Best Value Destination), en upprepning av valen 2012 och 2013.


Världsarv
Genom de 19 klassificeringarna till världsarv i Portugal representeras landets historia och kultur, det portugisiska folket och folkslag som har bott här sedan urminnes tider.

I Lissabon har Kristusklostret i Tomar, klostren i Alcobaça och Batalha, Jeronimosklostret och Tornet i Belém valts till världsarv pga deras historiska och konstnärliga betydelse. Historiska platser som Guimarães, Porto, Évora och Angra do Heroísmo har också klassificerats och bland andra sevärda monument och arkitektoniska verk kan Universitetet i Coimbra m.fl. klassificerade stadsdelar nämnas, samt befästningarna i Elvas.
Utmärkas ska också det kulturella landskapet i Alto Douros vinregion, i Sintra och vingården på Ilha do Pico som erbjuder några av de mest hisnande naturlandskapen i Portugal.

Dessutom ska vi inte glömma att nämna grottmålningarna av arkeologiskt intresse i Vale da Coa och överflödet i Floresta Laurissilva på Madeira. Vi avrundar listan med tre ikoner som definierar ett sätt att vara och att leva: Fado, Cante Alentejano och Medelhavsdieten, delar av ett karakteristiskt immateriellt arv i själen av ett folk och dess stunder av gemytlighet och fest. Nyligen erkändes tillverkningen av skallror som ett portugisiskt immateriellt arv av UNESCO.


Den portugisiska gastronomin har fisken som sin främste representant eftersom vattnen och placeringen vid Atlanten erbjuder den bästa fisken i världen.

Men Portugal väljs som gastronomiskt resmål av oräkneliga anledningar. Till fisk och skaldjur som bäst avnjuts vid vattnets rand under den sköna portugisiska solen vet vi att det självklara tillbehöret är en stor variation av bordsviner av hög kvalitet producerade i ett medelhavsklimat med ideala förhållanden även för olivolja.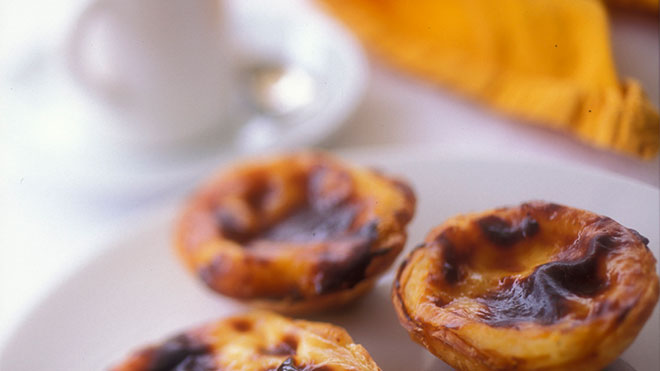 Det är därför som portvinet under århundraden har varit Portugals ambassadör och nuförtiden sammankopplas med andra genuint portugisiska produkter som vaniljtårtor, klostergodis och koppargrytor. Duktiga kockar har med dessa redskap och andra lyckats höja det portugisiska köket till en av världens bästa nivåer.

Olivoljan är också en av det portugisiska kökets främsta representanter och utgör en bas i den variationsrika och hälsosamma kosten i landet bl.a. i bröd, oliver och annan frukt, grönsaker och örter. De är alla ingredienser i medelhavsdieten, en portugisisk gastronomisk identitet som redan upphöjts till världsarvsstatus.

Till listan av exceptionella gastronomiska produkter bör läggas de alltid färska och naturliga grönsakerna och frukterna, kött med skyddad ursprungsmärkning och ostar från bergen som verkar vilja välsigna Portugals himmel och landskap.
---
To co najlepsze w Portugalii
Witamy na Visitportugal, oficjalnej stronie Turismo em Portugal.
Chcielibyśmy serdecznie zaprosić Państwa do poznania naszego kraju i zaoferować Państwu pomoc w zorganizowaniu swojej podróży.

Na początku warto dowiedzieć się dlaczego Portugalia została wyróżniona i doceniona przez międzynarodowe organizacje turystyczne. Prosimy o zapoznanie się z naszymi propozycjami, a w razie wątpliwości o kontakt.

Przykro nam, że nie mogą Państwo obejrzeć naszej strony w swojej wersji językowej. Z menu znajdującego się w górnym pasku można wybrać jeden z dostępnych języków.


Portugalia została uznana przez Lonely Planet za Best Value Destination, jako jeden z najlepszych kierunków turystycznych w 2015 r, charakteryzujący się najlepszym stosunkiem jakości usług do ich ceny. Z kolei w 2014r. wygrała edycję danego konkursu.

W 2014 r. została również wybrana najlepszym kierunkiem turystycznym według rankingu czasopisma Condé Nast Traveler. Wśród głównych atrakcji Portugalii wyróżniono kulturę, gastronomię, wina, plaże, golf, historię, różnorodność krajobrazu i przede wszystkim gościnność Portugalczyków, których Hiszpanie uznali za uprzejmych, otwartych oraz szczerych.

Lizbona i Porto
Lizbona jest stolicą Portugalii, natomiast Porto jest drugim co do wielkości miastem w kraju, położonym na północy. Te dwa miasta tętniące życiem, przepełnione historią, zachowały swój ludzki wymiar, o czym można się przekonać zwiedzając historyczne dzielnice, zabytki oraz podziwiając fasady wykonane z tradycyjnych biało-niebieskich płytek zwanych azulejos.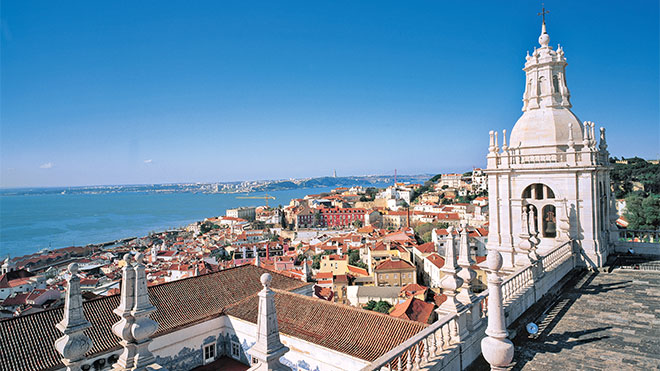 Lizbona zwana jest białym miastem, jest to efekt uzyskany dzięki promieniom słońca obitym od rzeki Tag. W 2014r.oraz w 2013r. w konkursie World Travel Awards, Lizbona zdobyła tytuł Travellers' Choice nadawany przez TripAdvisor. Otrzymała miano Najlepszego Europejskiego Kierunku Turystycznego na spędzenie wakacji w mieście.
Porto, od którego wywodzi się nazwa wina znanego na całym świecie, w roku 2012, 2014 oraz 2017 otrzymał tytuł Najlepszego Europejskiego Kierunku oraz jest jednym z 14 najlepszych miast do odwiedzenia według British Airways. Z kolei, w 2013r. miastu przyznano 2 miejsce w konkursie na najlepszą rozwijającą się alomerację turystyczną według Travellers'Choice portalu TripAdvisor.

Słońce i Ocean
Wybrzeże Portugalii obejmuje niemal jedną plażę o długości ponad 850 km. Gdzieniegdzie przyozdobiona jest skałami, które wzbogacają i upiększają ogromne połacie złotego piasku. Niekiedy ukryta jest w małych zatoczkach wśród malowniczych klifów.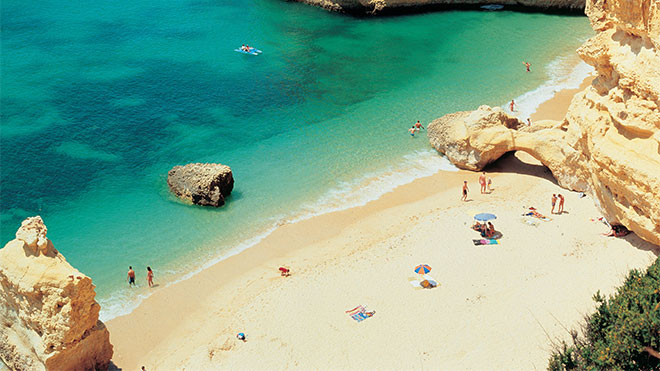 Algarve, najczęściej odwiedzany w okresie wakacji region Portugalii. W 2013r. i 2015 r. zostało uhonorowane nagrodą dla najlepszego miejsca do plażowania w Europie w konkursie World Travel Awards. Jednak w tym kraju pełnym słońca i wód oceanu można znaleźć dużo więcej wspaniałych plaż. W południowo-zachodniej części regionu Alentejo znajdują się niemalże dzikie plaże, położone na najlepiej zachowanym odcinku wybrzeża Europy, a w okolicach Lizbony można znaleźć najpopularniejsze plaże Costa do Estoril oraz niekończące się plaże Costa da Caparica.

Od północy do południa kraju rozciągają się niezliczone plaże oznaczone niebieską flagą (symbol najczystszych i najbezpieczniejszych plaż), gwarantujące różnorodne propozycje na wakacje skąpane w słońcu.

Surfing
Dzięki długiej linii brzegowej w części kontynentalnej oraz archipelagom Madery i Azorów łatwo zrozumieć, że Portugalia dysponuje idealnymi warunkami do uprawiania surfingu. Ericeira jest pierwszym rezerwatem surfingowym w Europie i drugim na świecie, którego plaże znane są każdemu surferowi. Mamy fale doskonałe dla każdego, fale tunelowe w Peniche, fale giganty w Nazaré i najdłuższe fale w Europie w Figueira da Foz.
Najbardziej znani surferzy z całego świata uprawiający różne odmiany tego sportu znajdą w Portugalii największą liczbę plaż, położonych w niewielkiej odległości od siebie. Tutaj mają też miejsce zawody najważniejszych mistrzostw świata takich jak Rip Curl Pro Portugal, podczas których w 2011r. Garrett McNamara poskromił falę o wysokości 30 m.

Golf
Od trzech lat Portugalia wyróżnia się pod względem miejsc do gry w golfa. W 2014, 2015, 2016 roku otrzymała nagrodę dla najlepszego kierunku golfowego na świecie i najlepszego kierunku golfowego w Europie, w konkursie World Golf Awards. Fakt ten nie powinien jednak dziwić w kraju o tak wyjątkowym, całorocznym śródziemnomorskim klimacie. Zwłaszcza w Algarve i okolicach Lizbony można znaleźć wiele pól golfowych, na których odbywają się największe mistrzostwa.
Wiele pól golfowych zostało zaprojektowanych przez światowej klasy architektów min.Roberta Trenta Jonesa, Rockyego Roquemorea, Sira Henryego Cottona, Arnolda Palmera i wielu innych znanych postaci. Jednak tym, co najlepiej je definiuje, jest ich niezaprzeczalna jakość i piękno krajobrazu, gdyż niejednokrotnie położone są wśród obszarów chronionych z widokiem na ocean.

W 2014 r. region Algarve został uhonorowany prestiżową nagrodą IAGTO dla najlepszego regionu pól golfowych. W 2015r. tą nagrodę przyznano regionowi Lizbony.

W 2015 r. Algarve zostało także uznane przez czytelników czasopisma Today's Golfer za miejsce o najlepszym stosunku jakości usług do ich ceny (Europe's Best Value Destination), tak jak to miało miejsce w roku 2012 i 2013.


---
Światowe Dziedzictwo
W 21 obiektach wpisanych na listę Światowego Dziedzictwa UNESCO znajdujących się w Portugalii odzwierciedla się historia i kultura kraju, jego mieszkańców i ludzi, którzy żyli tu w przeszłości.

Klasztor Zakonu Chrystusa w Tomarze, Klasztory w Alcobaça i Batalha, Klasztor Hieronimitów i Wierza Belém w Lizbonie, znalazły się na liście dzięki swojemu znaczeniu historycznemu i artystycznemu. Na listę UNESCO wpisała się również Starówka w Guimarães, Porto, Évora oraz Angra do Heroísmo.
Na uwagę zasługują także inne zabytki i obiekty architektoniczne tj. Uniwersytet w Coimbrze wraz z pozostałą, zabytkową częścią miasta oraz fortyfikacje w Elvas.

Warto także wspomnieć o Krajobrazach Kulturowych Regionu Winiarskiego Alto Douro, Sintry i Upraw Winorośli na Wyspie Pico, które oferują jedne z najwspanialszych krajobrazów naturalnych w Portugalii.

Portugalia posiada obiekty o znaczeniu archeologicznym tj. ryciny skalne w Dolinie Coa oraz bujna roślinność Lasów Wawrzynolistnych na Maderze. Listę zamykają trzy ikony określające sposób bycia i życia: Fado, Śpiewy Regionu Alentejo i Dieta Śródziemnomorska. Są to elementy dziedzictwa niematerialnego charakteryzującego duszę narodu i sposoby celebracji ważnych wydarzeń. Na listę Dziedzictwa Niematerialnego UNESCO został wpisany sposób wytwarzania dzwonków w regionie Alentejo, produkcja czarnego garncarstwa w Bisalhães, gmina Vila Real, Salvaterra de Magos oraz sztuka Falcoaria Real.


---
FOOD
W gastronomii portugalskiej dominują ryby, gdyż wody Atlantyku i ich bliskość czynią z nich najlepsze ryby na świecie.

Jednak jest wiele innych powodów, dla których Portugalia jest interesującym kierunkiem gastronomicznym. Do ryb i owoców morza, które najlepiej smakują nad brzegiem morza, należy dodać ogromną różnorodność doskonałych win stołowych, wzbogaconych klimatem środziemnomorskim, gwarantującym idealne warunki także dla produkcji oliwy z oliwek.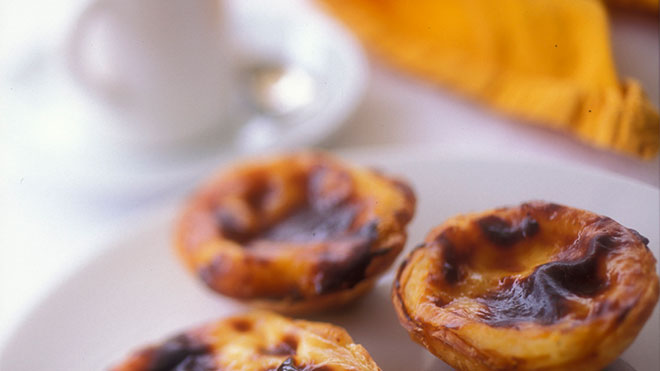 Od wielu wieków najbardziej znanym ambasadorem Portugalii jest wino Porto. Dzisiaj towarzyszą mu inne produkty wytwarzane tylko w Portugalii, takie jak pastel de nata, słodycze produkowane metodą klasztorną oraz mistrzostwo utalentowanych szefów kuchni, którzy przy pomocy naczynia cataplana i wielu innych wznoszą portugalską kuchnię na wyżyny najlepszych kuchni świata.

Oliwa z oliwek jest również jednym z najważniejszych składników kuchni portugalskiej. Jest ona podstawą zróżnicowanej i zdrowej diety stosowanej w Portugalii, która składa się również z pieczywa, oliwek, owoców, warzyw i ziół. Są to główne składniki diety śródziemnomorskiej, esencji gastronomii portugalskiej wznoszącej się do rangi Światowego Dziedzictwa.

Do listy wyjątkowych produktów gastronomicznych należy dodać świeże i naturalne warzywa i owoce, mięsa opatrzone znakiem "Chroniona Nazwa Pochodzenia" oraz górskie sery o wyjątkowym smaku.
---
Portugals bedste
Velkommen til Visitportugal, det officielle portugisiske turistbureaus hjemmeside

Vi vil gerne invitere dig til at kende vores land, og hjælpe dig med at organisere din rejse og dit ophold.

Først bør du vide, hvorfor Portugal er både fremtrædende og anerkendt. Gennemlæs vores forslag, og har du spørgsmål, tøv ikke med at kontakte os.

Vi beklager at vi ikke er i stand til at fremvise webstedet på dit sprog, men du kan vælge det sprog du foretrækker på den øverste menubjælke.




Portugal blev anset af Lonely Planet som Best Value Destination, dvs. for en af destinationerne i 2015 med det bedste tilbud for så vidt angår kvalitet-/prisforhold.

I 2014 havde den spanske udgave af Condé Nast Traveler Magazine allerede angivet Portugal som bedste destination, efter at landet også var blevet valgt som Best Value Destination 2014 af publikationen The Rough Guide. Blandt Portugals vigtigste attraktioner blev fremhævet landets kultur, gastronomi og vin, strande, golf, historie, de mangfoldige landskaber og, frem for alt, portugisernes gæstfrihed, som spanierne anser som venlige, åbne og oprigtige.


Lissabon og Porto
Lissabon er Portugals hovedstad og Porto, beliggende i Nordportugal, den næststørste by. Begge byer er fyldt med liv og historie og bevarer en menneskelig dimension, med deres historiske kvarterer, monumenter og flise-facader.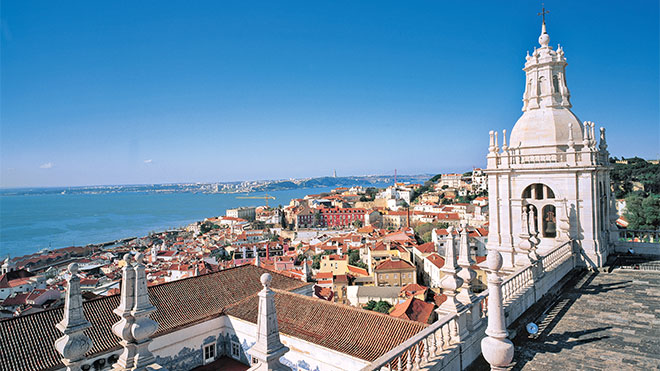 Lissabon kaldes den hvide by på grund af sollyset, som genspejles af Tejo-floden. I 2014 vandt byen TripAdvisors titel som Travelers' Choice, en titel den allerede var blevet tildelt i 2013, samme år som Lissabon blev valgt af World Travel Awards som bedste mål for byferie i Europa.


For så vidt angår Porto, som også har givet navn til vinen, der nydes over alt i verden, blev byen i 2014 igen valgt som bedste europæiske destination og en af de 14 top byer på British Airways liste over byer værd at besøge. Før dét var Porto nummer 2 på TripAdvisors 2013 Travellers'Choice liste over voksende destinationer i Europa.
Den portugisiske kyst er næsten én lang strand på over 850 km, hist og her bestrøet med klipper der føjer malerisk skønhed til de store strækninger af gyldent sand eller til de små bugter mellem klinter.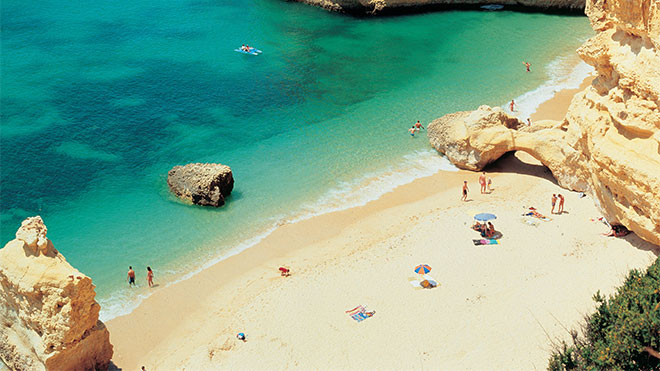 Algarve, Portugals mest populære destination for sol og hav, blev tildelt World Travel Awards prisen for bedste europæiske stranddestination i 2013 og i 2015. Men i et land med så meget sol og hav, er der mange andre strande i topkvalitet. I det sydvestlige Alentejo kan man finde næsten vilde strande, som er nogle af de bedst bevarede strækninger af europæisk kyst, mens Lissabon området besidder de meget populære strande på Estoril-kysten og sandstrande så langt øjet rækker på Costa da Caparica.
Fra nord til syd, er der mange strande med Blå Flag samt et meget varieret tilbud på solbrændt ferie for enhver smag.


Surf

Grundet den lange kystlinje på fastlandet samt øgrupperne Madeira og Azorerne, er det let at indse, at Portugal har ideelle vilkår for surfing. Således er det i Portugal, nærmere betegnet i Ericeira, at Europas 1. og verdens 2. surfing reserve findes, med meget populære strande kendt af enhver surf entusiast. Vi har de perfekte bølger for alle: Barrelling rørformede bølger på strandene i Peniche, kæmpebølger i Nazaré og de længste bølger i Europa i Figueira da Foz.
De mest berømte internationale surfere fra de forskellige stilarter finder i Portugal det største antal spots med mindst indbyrdes afstand og konkurrerer her i nogle af de vigtigste verdensmesterskaber, såsom Rip Curl Pro Portugal. Og vi har slået rekorder, som det er tilfældet med den 30m høje bølge Garrett McNamara surfede i 2011!


Golf
Portugal vandt World Travel Awards prisen som bedste golf destination i verden (2013 og 2015) og bedste golfdestination i Europa (2013 og 2014). Det er dog ikke nogen overraskelse, når man tager i betragtning at Portugal har et privilegeret klima hele året, og at der er mange golfbaner, især i Algarve og Lissabon-området, der har vundet gentagne præmier, og hvorpå mange af de større professionelle mesterskaber spilles.
Mange af disse baner er designet af kendte personer som Robert Trent Jones, Rocky Roquemore, Sir Henry Cotton, Arnold Palmer og andre ansete arkitekter. Men hvad der bedst definerer golfbanernes ubestridte kvalitet og smukke landskab er, at de ofte er anlagt i bevarede naturområder med havet som baggrund.
Ud over de mange præmier som golfbanerne i området har vundet, har den prestigefyldte organisation IAGTO valgt Algarve som Europas golf destination i 2014, en titel tildelt Lissabon-regionen for 2016.

I 2015 blev Algarve yderligere anset af læserne af Today's Golfer som destinationen med det bedste tilbud for så vidt angår kvalitet-/prisforhold (Europe's Best Value Destination), en gentagelse af hvad der skete i 2012 og 2013.


Verdensarv
Portugals 19 bevaringsværdige steder afbilder landets historie og kultur, dets folk samt de folkeslag, som har slået sig ned her siden tidernes morgen.

Det er netop på grund af deres historiske og kunstneriske betydning, at Kristus Klosteret i Tomar, klostrene i Alcobaça og Batalha og Jeronimus Klosteret og Belém-tårnet i Lissabon, er klassificeret som Verdensarv. Men der er andre monumenter og arkitektoniske elementer i de historiske centre i Guimarães, Porto, Évora og Angra do Heroismo, som ligeledes fortjener at blive fremhævet, som for eksempel universitetet i Coimbra og andre klassificerede områder af byen, foruden fæstningsanlægget i Elvas.




Kulturlandskaberne i Alto Douro vinområdet, Sintra, og vinmarkerne på øen Pico, Azorerne, bør også nævnes som nogle af de mest betagende naturlige landskaber i Portugal.

Derudover fortjener de forhistoriske ristninger af arkæologisk interesse i Coa-dalen og de overdådige Laurissilva-skove på Madeira også at blive fremhævet. Og for at færdiggøre listen; tre ikoner der definerer en være- og levemåde: Fado, "Cante Alentejano" - den traditionelle sang fra Alentejo og "middelhavskosten", som udgør dele af det portugisiske folks kendetegnende immaterielle kulturarv og sjæl og af dets samvær- og festligholdelser. For nylig blev fremstillingen af kvæg bjælder også anerkendt af UNESCO og optaget på listen over den portugisiske immaterielle kulturarv.


Gastronomi
I det portugisiske køkken er fisken den største eksponent i betragtning af, at landets farvande og atlantiske beliggenhed gør den til den bedste fisk i verden.

Alt i alt gør talløse grunde Portugal til et yndet gastronomisk rejsemål. Til fisk og skaldyr, som smager endnu bedre nydt ved havet og under den indbydende portugisiske sol, slutter sig en bred vifte af kvalitetsvine, forstærket af middelhavsklimaet, hvor olivenolien også finder ideelle vilkår.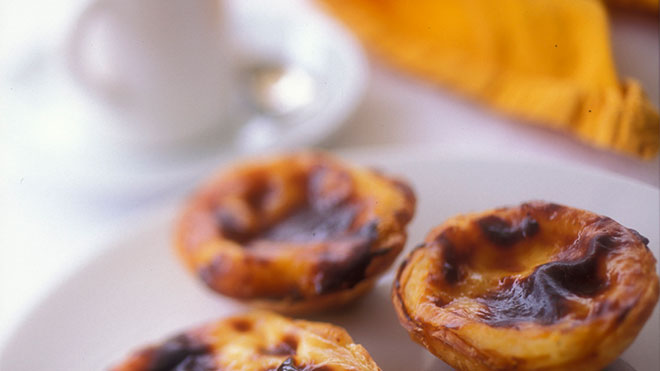 Det er også derfor, at portvinen i århundreder har trådt frem som en stor ambassadør for Portugal, nu ledsaget af andre ægte portugisiske produkter, såsom den klassiske "pastel de nata", klosterkonfekture, cataplana samt de mange dygtige kokke, som med cataplanaen og mange andre køkkenredskaber hæver Portugals kogekunst op på højde med de bedste i verden.

Også olivenolien er et af højdepunkterne i den portugisisk kogekunst; den spiller en central rolle i den varierede og sunde portugisiske kost, som også omfatter brød, oliven og andre frugter, grøntsager og krydderurter. De er alle ingredienser i Middelhavskosten, en portugisisk kogekunsts identitet der er ophøjet til verdensarv.

Til listen over enestående gastronomiske produkter hører også de mest friske og naturlige grøntsager og frugter, kød med beskyttet oprindelsesbetegnelse og bjergoste, som velsigner Portugals himmel og landskaber.
---