Landscape of the Pico Island Vineyard Culture, World Heritage (UNESCO)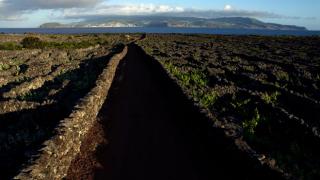 ---
Don't miss
take a picture next to one of the typical red-domed windmills
What about tasting a wine that grows on basaltic rock? It seems strange that such conditions produce such a delicious nectar, but the truth is that in days gone by, this wine went directly to the table of the Russian Tsars.

The cultivation of vines on Pico began in the late 15th century, when the island was first settled. Thanks to the volcanic soil, rich in nutrients, the dry, warm microclimate of slopes protected from the wind by walls of rough, dark stone, heated by the sun, the Verdelho variety vines have exceptional ripening conditions here. The wine was later exported to many countries in Europe and America, and even arrived at the table of the Russian Court. The vineyards that dot the landscape of the island, still produce a crisp, fruity, dry and mild wine that is an ideal companion for a plate of seafood or fish, as well as the vinho de cheiro (fragrant wine) that is so popular at the tables on feast days.

These lands, the Landscape of the Pico Island Vineyard Culture, combining their volcanic nature and ancestral cultivation practices, were classified by UNESCO in 2004 as World Heritage. Lajido da Criação Velha and Lajido de Santa Luzia are the best examples of this art of dividing the land that this title recognises. The vines planted in the lava rock are tightly enclosed by dry stone walls in plots called "currais", that are protected from the sea wind but let in the sunshine necessary for their maturation.
---
---