Whale and dolphin watching in the Azores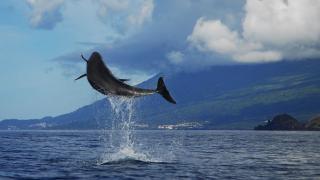 ---
Don't miss
swim with the dolphins
take your camera with you
The Azores, in the middle of the Atlantic Ocean, is an archipelago of nine islands showing nature in its purest state, and one of the largest whale sanctuaries in the world.

Among the resident and migratory species, some common, some rarer, you can see more than 24 different types of cetaceans in the waters of the Azores. There are also resident communities such as common dolphins and bottlenose dolphins, with which it is possible to swim, and there are whales that use the Azores as a migration route. Spotted dolphins, sperm whales, sei whales and baleen whales are more frequent in summer. Blue whales can easily be sighted in late winter. One thing is certain: whatever the season, there are always discoveries to be made.

The Azores are an ecosystem of unique features and waters rich in fish, so it is not surprising that whaling was an important activity in the past in many of the islands. Today, the whaling tradition has been transformed into a very popular tourist activity, and there are many points of departure, spread across the various islands, which serve as a base for those who want contact with these enchanting mammals, giving new meaning to the old cry: "Thar she blows".
---
---