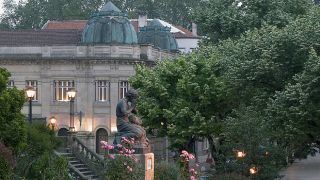 ---
Don't miss
stroll through the ancient streets and sense the atmosphere of the historic centre
take a ride on the tourist train
visit the Cathedral and admire the ceilings of the vault and the sacristy
taste and buy Dão wine
cross the city on the funicular
An ancient city, built of grey stone but at the same time green, lively and welcoming, Viseu was considered the best of Portugal in the quality of life ranking.

There's nothing like starting in the preserved historic centre for getting to know Viseu. Several narrow streets with traditional shops spread out in a mediaeval layout from Rossio. It's well worth a browse through them, and discovering Rua Direita and Rua Escura with their 16th century houses which retain gargoyles and Gothic windows, and Quatro Esquinas (Four Corners) where one of the city gates once stood.

The Cathedral churchyard Adro da Sé is a focal point of any visit. Here granite predominates in an imposing group formed by the Três Escalões Palace, which houses the Grão Vasco Museum, the Cathedral, the Canons' balcony and the Keep; opposite, the equally majestic Misericórdia Church, with its rocaille façade, introduces a cheerful note to the sobriety of the square. It's certainly worth spending some time here, but we would highlight the Cathedral dome ornamented with Manueline style ropes and knots in stone, and the treasures stored in the Treasury Museum, as well as works by Vasco Fernandes (Grão Vasco) a Portuguese painter form the 15th century, in the Museum named after him.
---
---