São Jorge: the island of fajãs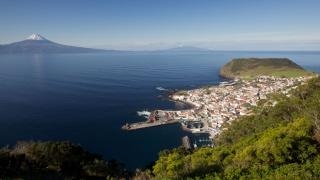 ---
Don't miss
surf the waves of Fajã da Caldeira de Santo Cristo
taste São Jorge Cheese, the clams, barnacles, crabs and limpets
São Jorge is an island of cliffs, crags and fajãs, one of the greenest in the Azores archipelago and the perfect place for a holiday in contact with nature and the sea.

The island is 54km long and 6.9km at its widest point, and is part of the Central Group and one of the apexes of the so-called "triangle islands", together with Faial and Pico, from which it is 18.5km away.

From a landscape point of view, the contrast of the central mountain range that runs almost the whole length of the island stands out, with its rugged, jagged coastline, dotted by the typical fajãs that extend into the sea. The fajãs are small plains originally created by lava or landslides and there are over 40 on São Jorge, which has earned it the nickname island of fajãs. In some cases there is only pedestrian access, so the trails are one of the best ways to discover it, using paths that are suitable for various physical conditions and specialist guidance.

From the Fajã da Caldeira do Santo Cristo, the most famous because of its tasty clams, to the Fajã dos Cubres, with its crystal clear lagoon, and the Fajã do Ouvidor with its natural pools, a tour of the island of São Jorge means admiring the land divided into plots for subsistence farming, the stone houses with three-pane sash windows, the waterfalls and the curious steel cables for transporting wood to the coastal plains.
---