Festivals and Devotions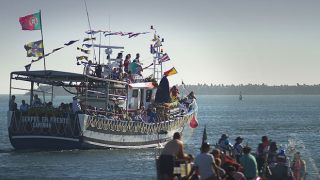 ---
Don't miss
visit Fátima on 13 May, the high point of its religious celebrations, or on the 13th of any month between May and October
visit the many churches and shrines in Braga, the oldest national diocese created during the Roman Empire
As an act of faith or the simple pleasure of discovery, you will find in Portugal a multitude of reasons for visiting and for religious celebration and as many options for spiritual quest.

Portugal, the oldest nation in Europe, whose frontiers have been defined since the 12th century, consists of lands conquered from the Moors who lived here at the time. In this Christian Reconquest campaign, the Portuguese kings were aided by the movements of the Crusades, particularly the Knights Templar. So it is a traditionally Catholic country, and even today many churches and religious cults have their historical roots in the foundation of the nation. Marian devotion is one such example, and here we find numerous Marian Shrines and various forms of veneration of the Virgin Mary. But Fátima, the site of the apparitions of Our Lady to the three shepherd children in 1917, is arguably the most important sacred site in the country. It is a place of strong spirituality, known as the City of Peace, to which no one, believer or not, can remain indifferent.

In honour of Our Lady and many other saints, many forms of devotion are expressed by hugely popular feasts, festivals and pilgrimages. This is the case of the Feasts of Senhora da Agonia in Viana do Castelo, the pilgrimages around Braga (Nossa Senhora do Sameiro, the Shrine of S. Bento da Porta Aberta and Nossa Senhora da Abadia), the Shrine of Nossa Senhora da Penha in Guimarães and Nossa Senhora dos Remédios in Lamego, just to mention those that attract the biggest crowds in the north. Further south the Rainha Santa Festivities in Coimbra are notable, the processions and pilgrimages of Nossa Senhora da Nazaré and Nossa Senhora do Cabo (Cape Espichel, Sesimbra), the Shrine of Nossa Senhora de Aires, near Viana do Alentejo and the Shrine of Nossa Senhora da Conceição, in Vila Viçosa, also in the Alentejo. In the Algarve we would mention in particular the Feasts of the Mãe Soberana in Loulé, perhaps the greatest religious display south of Fátima.
---