The Vinho Verde Route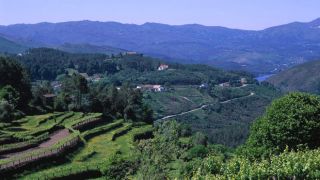 ---
Don't miss
do a wine tasting, visit the vineyards and the winery at the quintas that allow it.
taste the wine and buy a bottle in the Solar do Alvarinho in Melgaço
The Vinho Verde Route (literally, "green wine") in the far northwest of Portugal leads us through a landscape that is also green, divided into small plots which occupy the whole Minho region and extend south to the river Vouga.

Vinho Verde is unique worldwide, and is an excellent reason to explore the region. Its name is possibly related to the predominant colour of the region in which it is produced or the acidity that is peculiar to it, as if the grapes were harvested green. However, both the whites and the reds are light wines that are drunk chilled, and go well with fish and seafood, which abound on the coast. The white, the most well-known and best-loved, is a particularly aromatic and refreshing drink, enjoyed as an aperitif, with salads, snacks or as a simple break on a hot day.

The vineyards, which are mainly concentrated along the rivers, are influenced by the Atlantic ocean and, in search of the sun, the vines entwine along the trees, climb on trellises and border fields punctuated by typical granaries. They are divided into nine sub-regions (from north to south): Monção and Melgaço; Lima; Basto; Cávado; Ave; Amarante; Baião; Sousa and Paiva.
---